At Least 28 Killed In Multiple Explosions In Brussels
---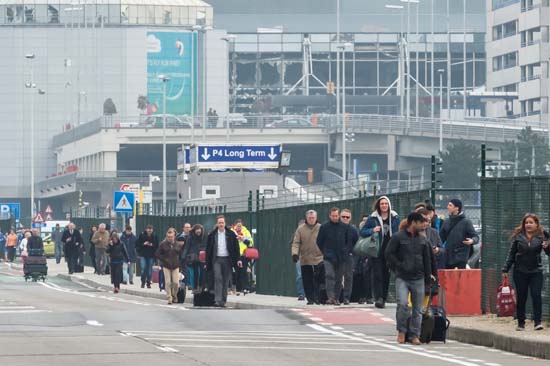 ( 4UMF NEWS ) At Least 28 Killed In Multiple Explosions In Brussels:
***BREAKING NEWS ***
Explosions rocked the Brussels airport and its subway system Tuesday, killing at least 13 people according to Belgian media, injuring scores more and prompting authorities to lock down the Belgian capital.
Belgium raised its terror alert to its highest level, diverting arriving planes and trains and ordering people to stay where they were. Airports across Europe immediately tightened security as a fleet of emergency vehicles roared in to handle the carnage at the Brussels airport.
The explosions, which the Brussels prosecutor's office called terror attacks, came just days after the main suspect in the deadly Nov. 13 Paris attacks was arrested Friday in Brussels. After his arrest, 26-year-old Salah Abdeslam told authorities he had created a new network and was planning new attacks.
There was no immediate claim of responsibility for Tuesday's attacks.
Belgian media reported that 13 people were killed at the airport. Brussels police spokesman Christian De Coninck said 15 people also died at the subway station. Thirty-five people are reported injured at the airport, and 55 were injured in the subway attacks.
At the airport, two explosions splattered blood across the departure lounge and collapsed the ceiling. The explosions hit during the busy morning rush. Smoke was seen billowing out of the terminal.
Anthony Deloos, an airport worker for Swissport, which handles check-in and baggage services, said the first explosion took place near the Swissport counters where customers pay for overweight baggage. He and colleague said second blast hit near the Starbucks cafe.
"We heard a big explosion. It's like when you're in a party and suddenly your hearing goes out, from like a big noise," Deloos said, adding that shredded paper floated through the air as a colleague told him to run.
"I jumped into a luggage chute to be safe," he said.
All flights from Brussels were canceled, arriving planes and trains were diverted. Authorities told people in Brussels to stay where they were, bringing the city to a standstill. Airport security was also tightened in Paris, London and other European cities.
European security officials have been bracing for a major attack for weeks, and warned that the Islamic State group was actively preparing to strike. Abdeslam's arrest on Friday heightened those fears, as investigators said many more people were involved in the Nov. 13 attacks that killed 130 people in Paris than originally thought, and that some are still on the loose.
Most Commented