Australia Wants To Ban Chris Brown Over Rihanna Assault Case
---
( 4UMF NEWS ) Australia Wants To Ban Chris Brown Over Rihanna Assault Case:
Chris Brown's criminal conviction for assaulting Rihanna in 2009 could possibly end his upcoming tour stops in Australia and New Zealand, as authorities are contemplating declining his pending visa application.
Michaelia Cash, the country's Minister for Women, says that the 26-year-old entertainer is "not of the character that we expect in Australia." Cash held a press conference to discuss a new national domestic violence prevention program and she told the audience, "People need to understand, if you are going to commit domestic violence and you want to travel around the world, there are going to be countries that say to you, 'You cannot come in."
This comes just after Floyd Mayweather was banned from the country for the same reason, and Tyler The Creator's Australia tour dates were cancelled over a petition started about his lyrics. The Odd Future frontman released a statement after the incident, telling fans, "We would much rather come to Australia when it isn't surrounded in controversy. I love my fans there and hopefully I'll be back soon. Don't do drugs."
Chris Brown has yet to comment on the status of his Australian tour dates.
Most Commented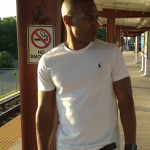 Sponsors