Bud Weisser Busted For Trespassing At Budweiser
---
( 4UMF NEWS ) Bud Weisser Busted For Trespassing At Budweiser:
No Bud for you!
An aptly named Missouri teen was cuffed Thursday for trespassing at the Budweiser brewery in St. Louis.
Bud Weisser faces charges of trespassing and resisting arrest after he got into a scuffle with brewery security in a secure area of the facility just before 7 p.m., St. Louis police told the Daily News.
Weisser somehow got into a secure area of the brewery before scuffling with security, St. Louis police said.
Weisser, 19, was asked to leave before the scuffle broke out and police were called, according to an arrest report taken at the flagship brewery at 9th and Arsenal. It's unclear how Weisser got into the building, which currently is hosting a "Brewery Lights" holiday event until 10 p.m. every evening through January 3.
Weisser was arrested last December for breaking into a St. Louis convenience store in August 2014. He was sentenced in April to two years probation on charges stemming from that crime, online court records show.
Most Commented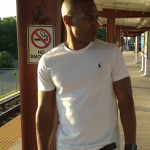 Sponsors