Bus Driver Busted Masturbating
---
( 4UMF NEWS ) Bus Driver Busted Masturbating:
How did he not crash?
A pervy NJ Transit bus driver got so hot and bothered while approaching the Lincoln Tunnel that he turned to self-love for relief.
George Simpson, 41, of Newark, started masturbating while pulling into the toll plaza just before 8 p.m. on June 24, transit officials said. But his indecent busman's holiday didn't last long.
A grossed-out rider shot a cell phone video of the driver in heat, as he steered with one hand — and at times no hands.
"It was disturbing," said the Manhattan librarian who filmed the hot-to-trot driver and has since sworn off the bus. "I was in shock and disbelief."
Simpson was completely exposed during his solo performance and apparently experienced tunnel vision as he chugged through the Lincoln, according to the rider's video. When his one-man act finally climaxed, his hands were too full to notice he was caught on video.
"The tape speaks for itself," said Patrick Metz, lawyer for the passenger who videotaped Simpson's questionable detour down his personal lover's lane.
"This would be an affront to any individual if this happened in front of them."
A NJ Transit driver for 21/2 years, Simpson has been yanked from his Carteret-New York route, the agency said."The bus operator in question was immediately removed from service without pay, as a result of this disturbing and grossly irresponsible conduct," said NJ Transit spokesman John Durso.
NJ Transit cops are investigating and Simpson has been charged with reckless endangerment, lewdness and risking widespread injury.
His neighbors said they hadn't seen Simpson since Wednesday.
"He must have been really horny," said a 28-year-old female neighbor who withheld her name. "He must have seen someone he really liked on that bus."
Simpson's sin was bad timing, she said.
"He could not wait," said the neighbor. "He should have waited for his lunch break and gone to the bathroom."
Most Commented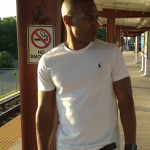 Sponsors