Coco Will Not Receive A Push Present
---
( 4UMF NEWS )Coco Will Not Receive A Push Present:
At least give her Shake Shack! Ice T explained to the audience of his Fox talk show, Ice & Coco, why he isn't gifting his pregnant wife, Coco Austin, with a push present on Tuesday, Aug. 11.
"Let's think about this really, ladies…you want a gift, I get it," Ice T, 57, said. "But, shouldn't the baby be the gift? I mean, are you sitting there holding the baby like, 'Oh, that's beautiful, where's my gift?'"
He brought some logic into the equation. "Well, c'mon where'd my ring go?" the Law & Order: SVU star asked. "Put the baby to the side, what did I get? It's not a prize, you don't win a prize for having a baby."
Austin, 36, meanwhile, called it more of an "appreciation gift," which prompted her husband to reply: "I think if you appreciate your wife and she's been through a struggle, you can give her a gift. But I don't think it should be demanded or expected."
However, the new talk show host told his wife he had some sweet ideas in mind to express appreciation. "I'm going to take you out to a good dinner," he joked. "I'll take you to In-N-Out or something…. so you know I appreciate and love you."
The pregnant star replied, "I mean a step up from In-N-Out."
"Taco Bell? …Where you wanna go? Wendy's?" he continued.
Ultimately, the couple of 13 years agreed to Five Guys.
Ice T and Coco confirmed their pregnancy last month after struggling to conceive for a while -- a storyline that was even documented on their reality series Ice Love Coco.
"I always told myself [that] if I have a little girl, I'm gonna keep her in a cage," Austin -- who revealed that she's expecting a girl (named Chanel, of course!) -- joked to Us at the time. "[Ice T's] probably gonna be the cool one. I don't want her to do anything that I did in my life."
Most Commented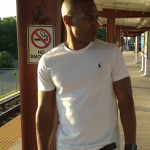 Sponsors