Cop Busted For Using Dead Man's Credit Card
---
( 4UMF NEWS ) Cop Busted For Using Dead Man's Credit Card:
After finding a Manhattan man dead in his apartment, an NYPD officer pocketed his credit card and used it to buy herself a pricey diamond ring, authorities charged Tuesday.
Ymmacula Pierre, 30, was charged with possession of stolen property, ID theft, attempted grand larceny and official misconduct for allegedly going online to a jewelry store's web site and using the dead man's Citibank Mastercard last year to buy bling valued at more than $3,200.
Days earlier, Pierre had responded to a call for a sick person at an E. 14th Street apartment, where she discovered the body of a 65-year-old architect Kenneth Sanden, who had been suffering from several health issues, according to court records.
On July 14, 2014, Pierre and her partner were responding to a 911 call from a relative who said Senden had not shown up at work.
Pierre vouchered some of Senden's possessions, including the credit card, officials said. Two days later the number was used to make an unauthorized online purchase of a diamond ring from Zales.com for $3,282.58.
Senden's niece was notified of possible credit card fraud, and alerted the vendor before the ring was delivered.
Zales had already shipped the item, but the store reached out to FedEx, which halted the delievery.
The delivery address, and the IP address of the computer used to make the purchase, matched the address of Pierre's boyfriend, whom she had listed as a personal reference on her NYPD application.
Pierre had also used the computer at her boyfriend's place to access Senden's email account.
"Because police officers take an oath to protect and serve, they are held to a higher standard of behavior in the course of their duties," said Manhattan DA Cyrus Vance.
"No grieving relative should have to worry about alleged theft and misconduct by a uniformed officer in the aftermath of a loved one's passing."
Investigators said Pierre had also used the Senden's Samsung Galaxyphone to contact his niece after she found the body. Shortly after that, the phone went missing.
Senden's family could not be reached for comment.
Pierre, a three-year veteran pleaded not guilty at her arraignment Monday. She was released on her own recognizance.
Pierre could not be reached for comment.
Pierre's next court appearance is scheduled for Aug. 11.
Most Commented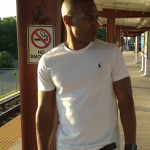 Sponsors