DJ Fined For Spinning F*ck Tha Police
---
( 4UMF NEWS ) DJ Fined For Spinning F*ck Tha Police:
Don't always express yourself.
While police in Westfield, Massachusetts raided an overpacked Shenanigans Pub last October, they were reportedly serenaded by N.W.A.'s "F--k Tha Police" playing through the speakers — a suspect song choice by Kashawn Harris, who goes by DJ Boogy, according to Officer Juanita Mejias' police report via MassLive.com.
Due to the timing of the situation, with the explicit song blasting as cops cleared the bar of its 350 customers — more than double capacity — on Westfield State University's homecoming weekend, Harris was given a summons for disorderly conduct.
Last weekend, months after the incident, a court ordered Harris, a 25-year-old Westfield State alum, to pay a $50 fine.
"I believed at that time the combination of alcohol, the excessive amount of people in the bar and the song that the DJ chose to play at that time was an intentional act by the DJ to incite the crowd which showed a reckless disregard for public safety," Mejias wrote.
But Harris says that before police arrived, a fire marshall told the bar owner 50 patrons had to be removed from the bar for the party to continue.
"I made the announcement, I shut the music off and I let everyone know..." he told the Daily News.
Following the fire marshall visit, Harris said the song was cued and only the intro was played, once the bar was cleared out and police were there.
"The police then came and said everyone has to go, for no clear reason. It wasn't like there was any fighting going on. Everyone was enjoying themselves, having a good time," he said.
Harris shared videos on his social media accounts, from the night of the incident, that show there was no music on as patrons were leaving. Besides saying the N.W.A. song was played at the cops' arrival, Harris also doesn't think Meija was "honest" because the report claims that 20 people had to leave the bar, not 50.
"It's just unfortunate that she had to make up lies like that. I don't know why she would do that," Harris said.
A month after the incident, in November, Harris tried to reach out to the police officer "to defuse the situation and maintain a positive relationship with the police officers in the city," but discovered he was blocked from communicating with her on Facebook.
"I still have respect for her as an officer," he said. "It's just unfortunate."
Most Commented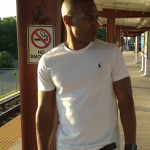 Sponsors