Floyd Mayweather Busted Taking Another Woman Out
---
( 4UMF NEWS ) Floyd Mayweather Busted Taking Another Woman Out:
It looks as though Floyd Mayweather and his fiancée Chantel aka Miss Jackson are going through yet another messy break up.
Last night, he was spotted catching the Lakers vs. Celtics game at the Staples Center while seated courtside with Atlanta designer Delicia Cordon and her girls. If he was trying to make his on-again-off-again fiancée Chantel jealous, it worked, as she took to Twitter to shade her competition. When asked why she wasn't at the game by one of her followers, Miss Jackson tweeted:
Cause he's busy with seat fillers!
She also added:
Funny when a person tries to top you.
Back in December, Floyd seemed to be team faithful, as he talked highly about Miss Jackson and being monogamous in an interview with Sister 2 Sister Magazine:
Miss Jackson is my fiancée. I stand behind her 100 percent. No relationship is perfect. Sometimes we don't see eye to eye, [but] I love Miss Jackson and she loves me. Any woman that's attractive that's around me doesn't mean that she's my girlfriend or she's my lady or I'm sleeping with this woman. I'm happy with one woman.
Related articles
Most Commented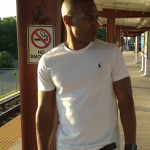 Sponsors