High School Basketball Player Killed In Drive By Shooting
---
( 4UMF NEWS ) High School Basketball Player Killed In Drive By Shooting:
Authorities in Paterson are offering a $1,000 reward for information leading to an arrest in the drive-by shooting that killed a young basketball player over the weekend.
At least three other people were wounded when the gunfire erupted around 8:30 Saturday night near the intersection of Rosa Parks Boulevard and Godwin Avenue.
Killed was 15-year-old Armoni Sexton, a top scorer and rebounder on the varsity team at the Paterson Charter School for Science and Technology, with high hopes of playing in the NBA.
Administrators say his death has left a somber mood for everyone in the school community.
"Some students and teachers walking into the school this morning were breaking down and some, it took them awhile to be overcome with emotion, but it's pretty sad," said school spokesman Tim White.
"He was a good kid, he always played basketball in school, and stayed in school," said Armoni's friend, Demonte Johnson.
Demonte played basketball with Armoni in a league in Paterson. He was home Saturday night when someone drove by the crime-infested corner, and opened fire.
"About 10 - yes, 10 gunshots," said eyewitness Craig Edwards.
Armoni collapsed on the sidewalk.
"He had picked him up and a lot of blood across the street, and they took him to the hospital," said Demonte.
Armoni later died. He was not believed to be the intended target.
Known for his moves on the court, the 6'8" powerhouse was consistently noticed for his speed and lift. His jersey number was 1.
Armoni had recently taken a break from school. Friends tell Eyewitness News that his mother sent him to North Carolina, knowing he would thrive there, and he did. However, the athlete was worried about his mom and just returned back home to Paterson.
The people at his school hoped Sexton's life would have turned out differently.
"He was one of those early NBA prospects type, once in a lifetime athletic ability guys, and to have a life taken so suddenly and tragically like this is really devastating," said Brown.
Police say the gunmen were riding in a blue minivan. In the rush to get away, they side-swiped Craig Edwards' car, a father of seven, who is worried about the violence outside his door.
"Me and my lady was talking about this yesterday, talking about we had to go because it's too much going on," he said.
A motive for the shooting remains under investigation. There have been a spate of shootings in Paterson in recent days, but it's not clear if this incident was related to any of the other shootings.
Most Commented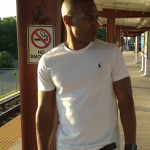 Sponsors