Kanye West Gives Aspiring Rapper Audition
---
( 4UMF NEWS ) Kanye West Gives Aspiring Rapper Audition:
Leaving the House of Blues in West Hollywood last night, Kanye West may have changed an aspiring rapper's life.
West was with Justin Bieber at the venue, where they attended a Big Sean concert. After the show, West was approached by Cameron Grey, who begged for West to give him one chance. Getting into his car, he turned around to listen to Grey.
Grey started freestyling for West, who was impressed with his words, reports MTV. He asked Grey if he would be willing to start from the bottom, to which the superstar hopeful, of course, agreed. West happily took Grey's contact info.
TMZ shared a video of the entire situation and it is easily one of the best videos of 2015 so far! Hearing Grey rap about how he told his friend that his career would start after he met West and got a chance, plus watching him run off screaming in excitement is enough to make anyone's day.
And people say West doesn't smile… did y'all see that grin?
West has also been in the news for his support for transitioning father-in-law Bruce Jenner.
Related articles
Ariana Grande, Big Sean, California, Chris Brown (American entertainer), Comedy Central, House of Blues, Jennifer Lopez, Justin Bieber, Kanye West, Kanye West Gives Aspiring Rapper Audition, TMZ (website), West Hollywood
Most Commented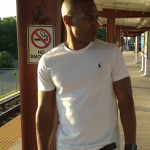 Sponsors