Kanye West Speaks On Illuminati And Racism
---
( 4UMF NEWS ) Kanye West Speaks On Illuminati And Racism:
Kanye West recently took a page out of wifey Kim Kardashian's book and covered the New York City-based magazine, PAPER Mag. Themed "The American Dream," the April issue of the mag interviewed people nationwide who are innovators and "reinventing the system in an effort to leave this place better than how they found it," so it's not surprising that they picked Mr. West to be in the forefront.
In the open letter-styled interview, 'Ye talks everything from starting at The Gap to living in China during one of the country's most prejudiced times. "When I was 10 years old I lived in China, and at the time they used to come up to me and rub my face to see if the color would rub off," Kanye writes. "It was really f***ed up, but I feel like it was preparing me for a world perspective that a lot of my friends who never got a chance to travel didn't get...When I was in fifth grade in China, when kids would come up to me and touch my face, it was like they had never seen a black person before, but that was a while ago."
The "Graduation" emcee (who refers to the project as "an innovation") also went on to finally speak out against the dreaded Illuminati rumors. "I heard a comment -- a joke -- about the Tidal press conference being an Illuminati moment," says Kanye. "If there was actually an Illuminati, it would be more like the energy companies. Not celebrities that gave their life to music and who are pinpointed as decoys for people who really run the world. I'm tired of people pinpointing musicians as the Illuminati. That's ridiculous. We don't run anything; we're celebrities."
"The American Dream" issues hits newsstands April 27. You can check out the cover up top.
Most Commented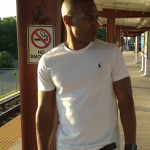 Sponsors