LA Times Hires Reporter To Cover Black Twitter
---
( 4UMF NEWS ) LA Times Hires Reporter To Cover Black Twitter:
Black Twitter is a powerful entity of Black voices that electrifies the Twittersphere with viral hashtags such as #HandsUpDontShoot, #ICantBreathe, and of course, #BlackLivesMatter. Recognizing the spunk of Black Twitter, the Los Angeles Times has brought on a reporter dedicated to covering it
Los Angeles Times Managing Editor S. Mitra Kalita made the announcement (via Poynter):
Dexter Thomas joins us today to cover Black Twitter (which really is so much more complicated than that). He will work closely with the newsroom and #EmergingUS to find communities online (Black Medium to Latino Tumblr to Line in Japan) and both create stories with and pull stories from those worlds.
Thomas is a doctoral candidate in East Asian studies at Cornell University, and has taught media studies and Japanese. He is currently writing a book on Japanese hip-hop.
Some are questioning his qualifications for the job given his credentials.
@TorraineWalker basically he knows nothing about black twitter..maybe he should cover asian twitter?

— Yesha (@YeshaCallahan) July 7, 2015
And he has responded directly to detractors on his Twitter stream.
@dexdigi it's not that we are hiding it's just why do we need to be studied can u at least get them to answer that ?

— plaintain princess (@jonesjenny31) July 7, 2015
In an interview with AllDigitocracy, Thomas responds to those who may think his background does not align with his current job:
"It's a background that makes sense because it's a mix of different things, just like Black Twitter is a mix of different things. Not everyone who follows Black Twitter is black. Just like in the past, a lot of activism happening today has people who have covered these same issues and served as a bridge between larger media outlets and the activists, and many of them have been Asian-American. It's important to explore the fragments of those who are telling the stories. I'm interested in what blacks, Asians and Latinos are doing offline with this."
According to The Daily Beast, in the absence of clout, political influence, and money, Black Twitter rose into prominence to provide a platform for stifled voices who want to be heard in the face of injustice. "Black Twitter can move mountains," it said.
As for Thomas, he assures us he won't let Black Twitter down: "I want to work with people to tell their own stories, not make things like listcicles on the top 10 things people think about Beyonce's hair."
Most Commented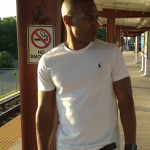 Sponsors