NBA Player Chris Copeland Stabbed Outside Nightclub
---
( 4UMF NEWS ) NBA Player Chris Copeland Stabbed Outside Nightclub:
A former member of the New York Knicks now playing for the Indiana Pacers was stabbed in the abdomen — and his wife slashed — during an argument outside 1 OAK club in Chelsea early Wednesday, cop sources said.
Chris Copeland's attacker was arrested, and two members of the Atlanta Hawks, Pero Antić and Thabo Sefolosha, were also booked, for trying to prevent police from setting up a crime scene, the sources said.
A second woman was also stabbed amid the fracas, which happened shortly before 4 a.m., as the popular club on West 17th St. was preparing to close. An argument erupted as Copeland, the other victims and the suspect were leaving, the sources said.
The man who was arrested, Shezoy Bleary, 22, pulled out a knife and stabbed Copeland, 31, and slashed 28-year-old Katrine Saltara, described by investigators as Copeland's wife, in the arm and leg, the sources said.
The second woman, Catherine Somani, 53, was slashed in the abdomen, the sources said.
Copeland came to New York because the Pacers are playing the Knicks at Madison Square Garden on Wednesday night. The Hawks, meanwhile, will tip off against the Brooklyn Nets at the Barclays Center on Wednesday.
Copeland and Saltara were rushed to Bellevue Hospital and were in stable condition, the sources said. Somani was taken to Lenox Hill Hospital.
When police arrived at the scene, they busted Bleary and recovered a knife, sources said. Charges against him were pending.
Sefolosha, 30, and Antić, 32, refused to move when police tried to set up a crime scene, the sources said. They were charged with obstructing governmental administration.
A police source said that Somani is a friend of Bleary's and was with him when the argument broke out. It is believed that she was slashed by accident, the sources said. "She was with him, and in the course of what he was doing, (he) slashed her in the abdomen," the source said.
Copeland, a 6-foot-8 forward from Orange, N.J., played 56 games with the Knicks during 2012-2013 season, his rookie year. In July 2013 he signed with the Pacers as a restricted free agent, inking a two-year, $6.1 million contract.
Sefolosha and Antić had been in the city no more than a few hours before the incident, as they spent Tuesday night in Atlanta, scoring a combined 32 points to help the Hawks beat the Phoenix Suns.
Most Commented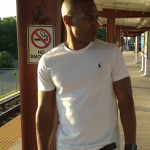 Sponsors