Playboy Model Jumps Off Building With 7-Year-Old Son
( 4UMF NEWS ) Playboy Model Jumps Off Building With 7-Year-Old Son:
A former Playboy centerfold and her 7-year-old son jumped to their deaths from a 25th-floor Midtown hotel penthouse early Friday, authorities said.
Former Miss November Stephanie Adams, 46, and her little boy Vincent landed on a roof next door to the Gotham Hotel after their 8:15 a.m. suicide plunge, cops said. Mother and child were both dead at the scene.
Adams was in the middle of a divorce from her husband Charles Nicolai, according to court documents. The bodies of the two victims were initially spotted by a guest at the E. 46th St. hotel off Fifth Ave.
"It's crazy. I don't know what to say. Nothing (like this) has ever happened here," said Ilir Krsniqi, 27, a waiter at Wolfgang's Steakhouse in the hotel for five years.
"One of the guests of the hotel they called the lobby. They said, 'We saw a dead body,'" he said. "They said one but then they realized there (were) two."
Adams and her son checked into the hotel about 11 a.m. Thursday, taking the penthouse room. Officials offered no explanation for the double-suicide.
Krsniqi said he was sent home soon after his shift started and that the restaurant closed for the day.
Word of the tragedy quickly spread throughout the area. Scores of pedestrians and people who work nearby gathered near the front of the hotel.
"It's horrible. I'm a grandfather myself," said James Davis, 56, who works at Rockefeller Center. "It's mental illness. You kill yourself and you kill a child, it's horrible."
The family-owned Gotham offers 67 rooms. The hotel is named for the Gotham Book Mart and was where the James Joyce Society was founded in 1947.
Most Commented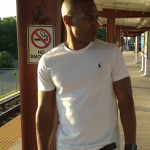 Sponsors