Pop Star Xavier To Perform In NYC
---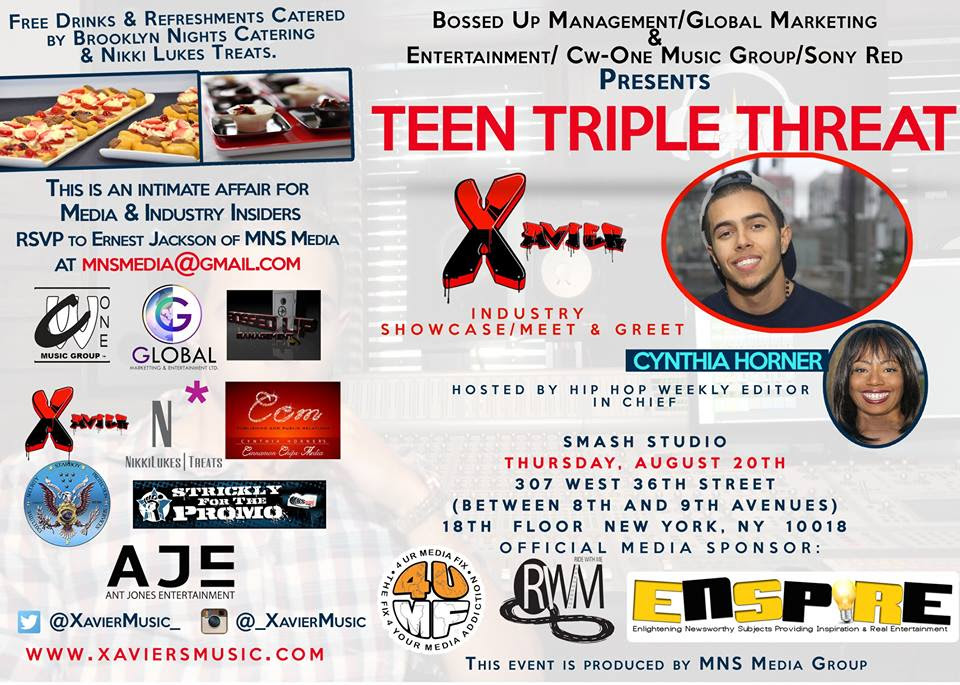 ( 4UMF NEWS ) Pop Star Xavier To Perform In NYC:
Kicking off the eagerly anticipated Bossed Up Entertainment NYC Media Tour by announcing his newest single, "Lift You Up", before an audience of millions on MTV, BET, and VH1, teen sensation Xavier, a "triple-threat" rapper, vocalist, and instrumentalist, has embarked on the next phase of his fast-moving career, with the electrifying revelation that he's signed a major, 3-single deal with CW One Music Group/Sony Red. This exciting development is the latest in a long list of achievements for this popular young rising star, who is about to amaze and thrill the audience at a very special August 20th performance in New York City hosted by Editor In Chief of Hip Hop Weekly Cynthia Horner. The show, featuring live dancers and musicians, showcasing Xavier's unstoppable "triple threat" talent. It's not to be missed!
Born and raised in Brooklyn, Xavier emerged as a gifted artist at an early age, rapping, singing, and mastering instruments such as guitar and drums, overcoming the adversity of inner-city life, and proving that dreams really can come true. He quickly advanced to open for such household names as Nicki Minaj, Kevin Hart, and several others. His melodic voice and captivating lyrics soon attracted the notice of industry heavyweights, landing him a opportunity to be on hand for the private screening of critically acclaimed Pharell Williams film Dope, which starred Shamiek Moore, Kimberly Elise, Chanel Iman, Quincy Brown, Zoe Kravitz, and ASAP Rocky. Xavier's fans can also catch him right in their own living rooms, on WWOR Channel 9's Season 3 of 'Ride with Me TV.'
Xavier's sizzling new single, "Lift You Up", produced by We The Best Music Group's Lee On The Beats, whose other production credits include chart-toppers like Rick Ross, Lil' Wayne, and DJ Khaled, was the centerpiece of the Bossed Up NYC Media Tour. This whirlwind radio odyssey took Xavier to Bar Talk Radio @ F.L.O Empire Radio studio, Talk It Out Radio @ F.L.O Empire Radio studio, The Lyrically Live Show @ DTF Radio station, Dre's House @ FloEmpire Radio studio, The DJ Allstar Show @ Desert Storm Radio, SIHH RADIO, Afternoon Tea with your host Kymmi Tea @ DTF Radio station and 4 You Radio @ In the Mixx Radio. Bossed Up Entertainment Manager Smag, Xavier's spokesperson, says, "music is Xavier's passion, therefore, he makes it a point to ensure that added touch of creativity and distinction shines through in each of his creations, and there are no exceptions."
This August 20th, there will be an electrifying showcase, which pops off at Smash Studios, located in the heart of Midtown Manhattan at 307 W. 36th Street (between 8th and 9th Avenues), on the 18th floor, from 6 to 10 PM. This extravaganza is proudly powered by Bossed Up Entertainment and Global Marketing & Entertainment, in association with CW-One Music Group, LLC 6.2 Entertainment, LLC & Rockboy Records via Sony Red [RED MUSIC] - one of the biggest names in the music industry today. Media sponsors for this amazing event will be 4UMF.COM, RIDE WITH ME TV & ENSPIRE Magazine. Delightful refreshments and desert treats will be provided by Brooklyn Nights Catering & Nikki Lukes Treats. As the summer closes to an end, Xavier will be preparing for his anticipated single release by Sony Red sometime in the fall. Xavier will be rising higher and going further than ever before, and his legions of fans can expect to be amazed and delighted by this exceptional young music maker.
Discover more about Xavier by visiting Twitter: @XavierMusic_ & Instagram: @_XavierMusic.
Most Commented