Popeye's Job Applicant Stops Robber, Lands Job
---
( 4UMF NEWS ) Popeye's Job Applicant Stops Robber, Lands Job:
An 18-year-old was inside a Popeye's chicken restaurant for a job interview Saturday when a robbery broke out, ending with the applicant nabbing the thief and the job.
Devin Washington was visiting with a manager about a role at the restaurant in eastern New Orleans when a man identified by police as Pablo Ciscart approached the cash register and requested change for a dollar, according to CNN.
That's when Ciscart, 50, reached over and grabbed cash out of the register's open drawer and bolted for the door.
When he got there, he saw manger Danyanna Metoyer blocking the exit with her body.
"My upper-body strength was stronger than his," Metoyer told Associated Press.
As Ciscart attempted to shove the manager, Washington grabbed him from behind in "a reverse bear hug," police said in a statement.
"Realizing he was overmatched, Ciscart threw the cash on the floor and surrendered to the manager and the applicant, who held him until police arrived," the New Orleans Police Department said.
Ciscart admitted to the robbery and has a warrant for a similar crime in nearby St. Bernard Parish.
Monday was Washington's first day and it went just fine. "He worked and went on home to be with his family," Metoyer, the assistant manager, told USA TODAY.

Source
Most Commented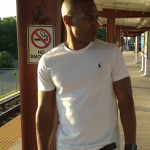 Sponsors