Ravens Player Interns For Congressman
---
( 4UMF NEWS ) Ravens Player Interns For Congressman:
He's a Super Bowl-winning wide receiver but Torrey Smith is adding another skill to his resume.
The Baltimore Ravens wide out, 24, has spent the last month as an intern with a local congressman. Under the tutelage of Rep. Elijah Cummings, a Maryland Democrat serving the state's 7th district, Torrey told the Ravens team blog that he learned a lot and enjoyed the experience.
"I was handling files, reading letters, relaying them, typing up what sponsors say, printing stuff," Smith said. "I was the office guy."
The second-year pro had a solid second season, capped off with his first Super Bowl win. Apparently the on-field work wasn't enough for the University of Maryland graduate, who majored in criminal justice.
"It's about seeing what's out there," Smith said. "As an athlete I feel like I always said, 'Man, I can't wait till I can just play football and I don't have to worry about school.' Now that all we do is work out and you have the rest of the day, I feel like I'm limiting myself if I don't do anything else."
Cummings, too, enjoyed having Smith around, telling Buzzfeed that the NFL pro did an "outstanding job."
"It was a pleasure having Torrey Smith intern with us, and I was glad that I could offer him the opportunity," Cummings said in a statement. "Torrey was eager to learn about the legislative process and was treated no differently than any of our other interns — all of whom play a meaningful and important role in helping me serve the constituents of Maryland's 7th District. I hope that this experience gave him the perspective he sought and I thank him for his outstanding work."
Most Commented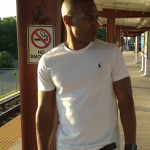 Sponsors