Singer's Pad Falls Out During Live TV
---
( 4UMF NEWS ) Singer's Pad Falls Out During Live TV:
Talk about an embarrassing moment! Mexican singer Patricia Navidad was performing Viva Mexico" on Univision's "Despierta America" when her pad decided to make its debut. That's right: her pad.
As in maxi pad.
Like a true trooper, Navidad kept it moving without even acknowledging that her pad it the floor. Shout out to the shady cameraman who lingered on the pad lying on the floor.
Check it out:
Most Commented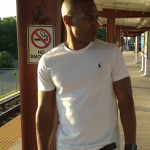 Sponsors