Stephon Marbury Dunked On
---
( 4UMF NEWS ) Stephon Marbury Dunked On:
For those of you unfamiliar Han DeJun, he's a 7'1" behemoth who plays for the Liaoning Flying Leopards in the Chinese Basketball Association. Yes, the same league that Stephon Marbury recently used to fuel his resurgence into superstardom. My guess is that right about now Starbury's probably wishing he could wipe this play from the memory banks of his newfound Chinese faithful.
If Stephon wasn't personally acquainted with DeJun (dubbed 'China's Shaq') before this play, he certainly is now. I give him credit for having the courage to even attempt this block, but at a feisty 6'2," he gave me a flashback to his "high talent-low basketball I.Q." game that sent him packing from the NBA. He was out of position and as this evidence suggests, had no business trying to block the shot.
There's no two ways about it, DeJun pretty much erases Marbury's soul (and body) with this facial. As if that wasn't demoralizing enough, it was an "and 1!" I've got a soft spot in my basketball heart for Stephon finding his way in this world again, but this was just plain filthy.
Most Commented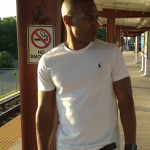 Sponsors