Wale Confronts NBA Anouncer On Air
---
( 4UMF NEWS ) Wale Confronts NBA Anouncer On Air:
Grammy nominated rapper Wale has some new material for his next album, as he was certainly angry with two broadcasting personalities.
The Washington, D.C. native was courtside at the Toronto Raptors, Washington Wizards game heckling his friend, and new Raptor Rudy Gay.
Raptors TV play-by-play announcers Matt Devlin and Leo Rautins were confused by the on-court antics, and tried to explain at best who Wale, born Ralph Victor Folarin, was.
"Supposedly this fan is a well known local rapper," Devlin said. "Wale is inspiring, and I'm sure some body on Twitter could tell me exactly if they've ever heard of Wale. He's not Drake, that's for sure."
The rapper would eventually walk up to the Raptors announcer booth and chat with Matt Devlin, and also tweeted him, "@MattDevlinRaps watch ur mouth".
Wale, has over 2.5 million followers on Twitter, but according to Rautins, "The fact that we don't know him is because he doesn't matter".
Related articles
We give the news and nothing but the news! So help us God!!!
Most Commented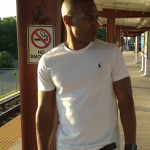 Sponsors