Xavier, The Next Teen Pop Star
---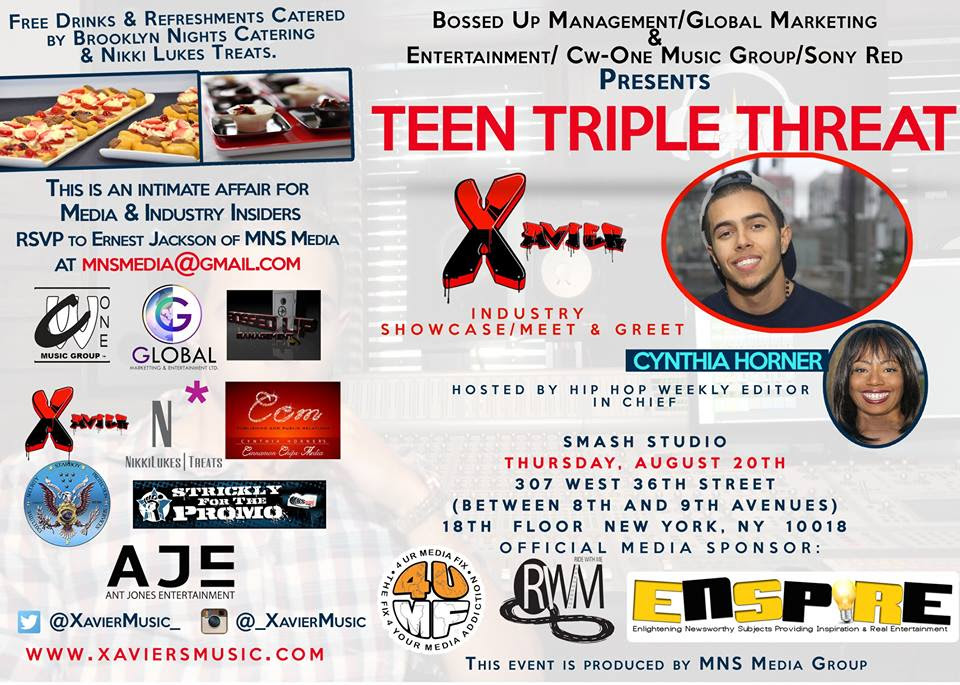 ( 4UMF NEWS ) Xavier, The Next Teen Pop Star:
Known as the next big pop star since Chris Brown, teen triple threat Xavier performed August 20th at Smash Studios in New York City. This media showcase was powered by Bossed UP Entertainment and Global Marketing & Entertainment in association with CW-One Music Group, LLC & Rockboy Records via Sony Red. Hosted by Editor In Chief of Hip Hop Weekly, Cynthia Horner, the audience got to know a lot more about Xavier the individual during the Q&A.
Cynthia and Xavier gave the audience an intriguing introduction conversation. When you hear Xavier speak about the type of lyrics that he puts in his music focusing on the fact that other kids will listen and his responsibility because of his influence, you would not think this young man just turned 18. "Kids will repeat your lyrics, they will look it up," says Xavier.  In an industry that can sway or suck in any individual to the wrong path, Xavier gives you the impression that his responsibility is to stay focused, be humble and mindful of the youth that will look up to him. He performed his hit single "Lift You Up" and a few other tracks.
We got to speak with Xavier one on one after his performance:
Xavier wants to accomplish something and make an impact in the music industry. You can't help but appreciate this young man's mindset. He understands his reach and platform and knows what type of message he wants to portray. To find out more about Xavier's music click here and also follow him on twitter @XavierMusic_ and on Instagram @_XavierMusic.
For media inquiries contact mnsmedia@gmail.com
We give the news and nothing but the news! So help us God!!!
Latest From