Baby Missing After Mother's Body Found
---
( 4UMF NEWS ) Baby Missing After Mother's Body Found:
Authorities are searching for an 11-month-old baby boy after the child's mother was found stabbed to death and stuffed inside of a refrigerator.
A strong foul odor pouring out of the mother's Houston apartment Monday afternoon led maintenance workers to the grim discovery but her baby, Achilles Lambert, missing, police said.
That child is now believed to be with his father, 38-year-old Patrick Lambert, who is described as a person of interest in his estranged wife's death.
Exactly how long the body, identified as belonging to 27-year-old Anastacia Oaikhena Lambert, had been left to decompose inside the home is not yet known. The apartment has been without power since Nov. 20 because of a late bill payment, KHOU reported.
Lambert has not been seen or heard from in about a week, police said.
An Amber Alert issued for the missing pair describes Lambert as 5-foot-11. Both father and son are black.
Amber Alert, Black hair, Black people, Calaveras County, California, Galveston, Hoax, Jerome, Race and ethnicity in the United States Census, Snoopy, Texas
Most Commented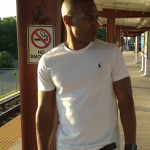 Sponsors